Flexibility and Caring:
The Move It Now Difference
We drive durable trucks.
Our packing and moving methods are tested.
We absolutely guarantee our prices.
Add flexibility and caring and that's the real Move It Now difference!
Flexibility & Caring
No two moves are alike. Our services range from you-don't lift-a-finger to you-choose-a-la-carte exactly what you need. We'll pack your boxes, Move It Now will never box you in. That's flexibility.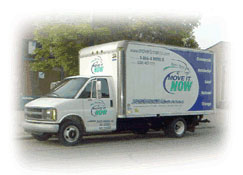 Moving is the first big step in your new adventure. We'll advise you on ways to avoid mistakes that cost money and cause stress. We take pride in starting you journey off the right way. That's caring.
Affordability
Compare. Move It Now is your best value. No matter how far away you live from our warehouse, we're not "on the clock" until we know at your door. From our first consultation to the final safe delivery, we guarantee a sensible rate.
Storage
Temporary Storage: Renting? House-hunting? We offer organized and safe storage. Receive a list of all your items so you know exactly what's packed away.
Seasonal Storage: Put patio furniture, gardening equipment, sporting goods and other seasonal items away. Keep your home uncluttered.
Business Storage: Store display units, tradeshow materials, old records, digital files and paperwork.
Our Trucks and Drivers
Every Move It Now truck fleet is carefully inspected. Every driver is licensed and trained in safe driving techniques.
Members: