**HOURLY LABOR RATES BELOW**
To minimize toxic greenhouse gasses, we're converting our trucks to run on 100% PURE VEGETABLE OIL (they still run on diesel, too, but primarily WVO)!
Over-the-phone/internet estimates are so inaccurate they're a waste of time, in our opinion. We avoid complications by providing in-home consultations. Please call to arrange yours—they're FREE.
To protect our clients, we're licensed with the North Carolina Utilities Commission, so that you can hold us accountable (NCUC License # C-2433), and we carry Cargo Insurance (If your movers aren't licensed, they're definitely not insured—so it's wise to verify your mover's license status with the North Carolina Utilities Commission BEFORE you schedule!).
FREE in-home Estimates & Binding Not-to-Exceed Quotes
No deposit required for local moves
All furniture padded & shrink-wrapped for no additional charge
Packing services available (Moving Details, Inc: 704-643-2221)
Master handlers of fine antiques
Homes, Apartments and Condos
Fine furniture Pick-up/Delivery from High Point/Hickory to LKN
Local and Interstate Moving Services (Direct service: No stops, no load-mixing, no delays!)
Uniformed, Full-Time, AMERICAN Moving Specialists (NO DAY LABOR)
Winter Labor Rates for Local Moves:
--2 men/1 26' truck with ramp and lift-gate: $ 90.00 per hour
--3 men/1 26' truck with ramp and lift-gate: $120.00 per hour
--4 men/2 26' trucks with ramp and lift-gate: $160.00 per hour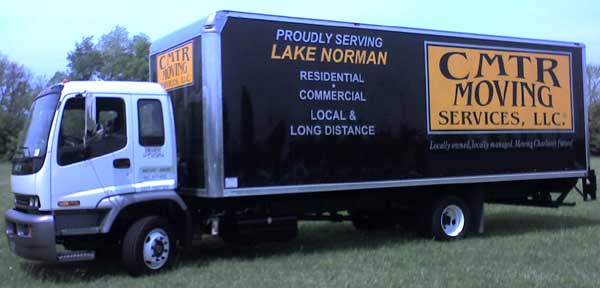 CMTR Moving Services, LLC (NCUC # C-2433) Lake Norman Moving Services, LLC "Earth-Friendly Moving Services!"
15336 Old Statesville
Huntersville, NC 28078